Overview
IRMA is the innovative ensemble-centric platform that enables users to do analytics, reservoir management and optimization work using ensembles of models. It is built to enable uncertainty-centric modelling to become a reality- to make it as easy to work with 100's of models as it is to work with a single case.
IRMA is defining the industry standard for how to manage and store ensembles. It can ingest and manage your ensemble data, whether it comes from ResX or from other ensemble sources. Applications in IRMA deploy analytics, data exploration, machine learning, optimization and visualization techniques to enable you to easily use ensembles of models to explore the subsurface, identifying new opportunities and their associated risks.
IRMA is also an open platform built on a microservice-oriented architecture which is deployed in a cloud environment. The services connect to data sources via open APIs and are accessed by users through a modern web interface. Because of its openness, IRMA can be used to create new fit-for-purpose applications to address an asset team's specific modelling and decision requirements.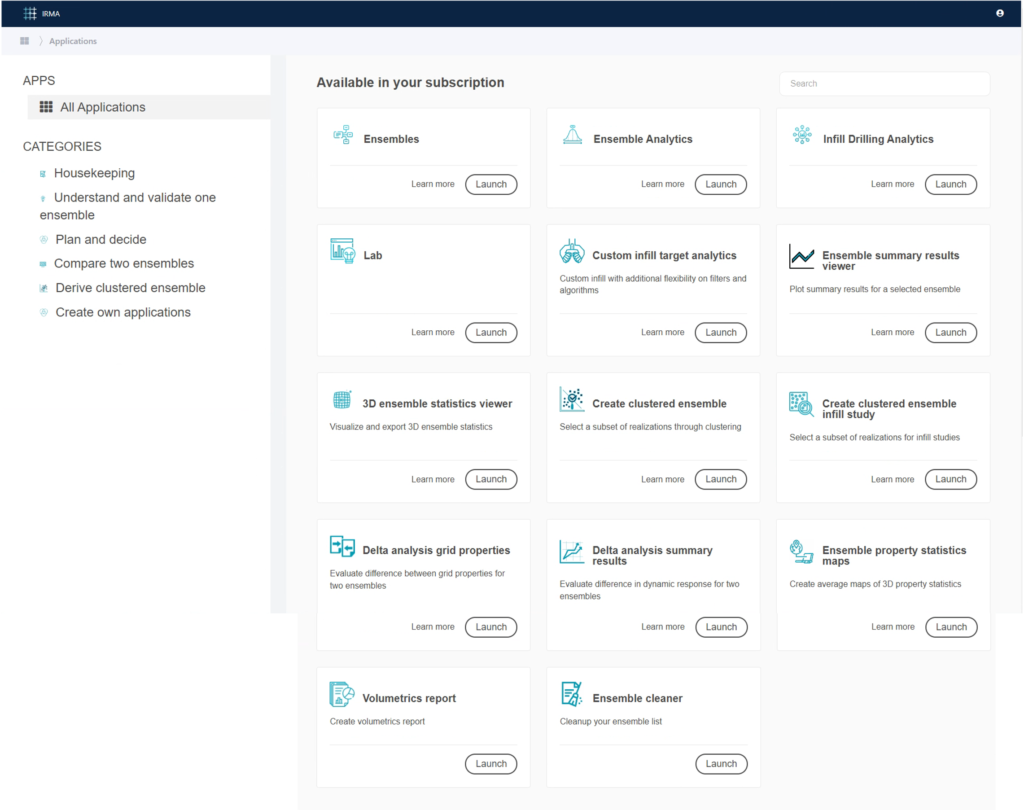 Ensemble analytics
Improve quality & subsurface understanding – gain confidence
IRMA is the essential toolkit to make working with ensembles as easy as working in a traditional single model paradigm. Improve the quality of your ensemble with modelling recommendations, improve subsurface understanding & gain confidence in your decisions.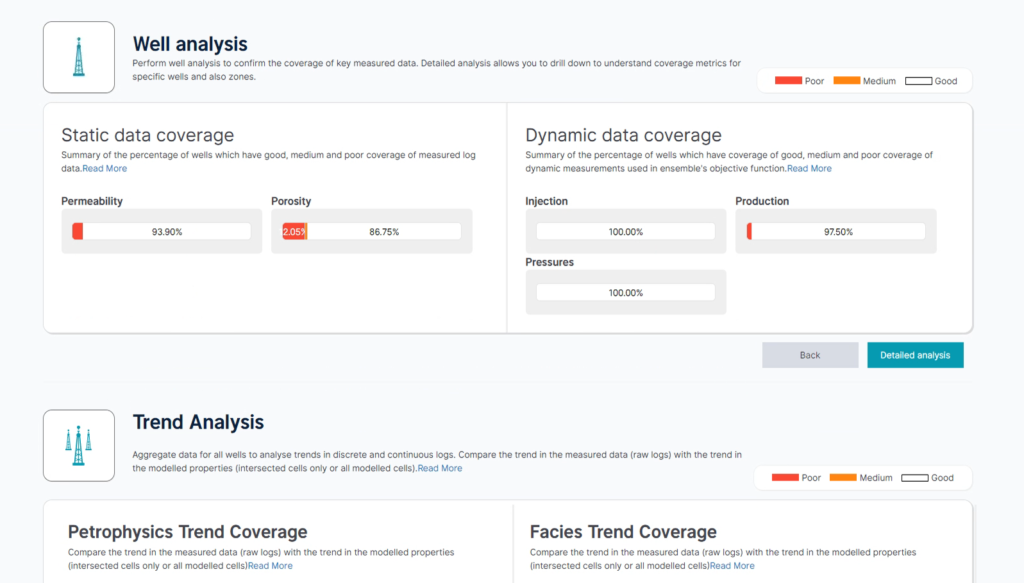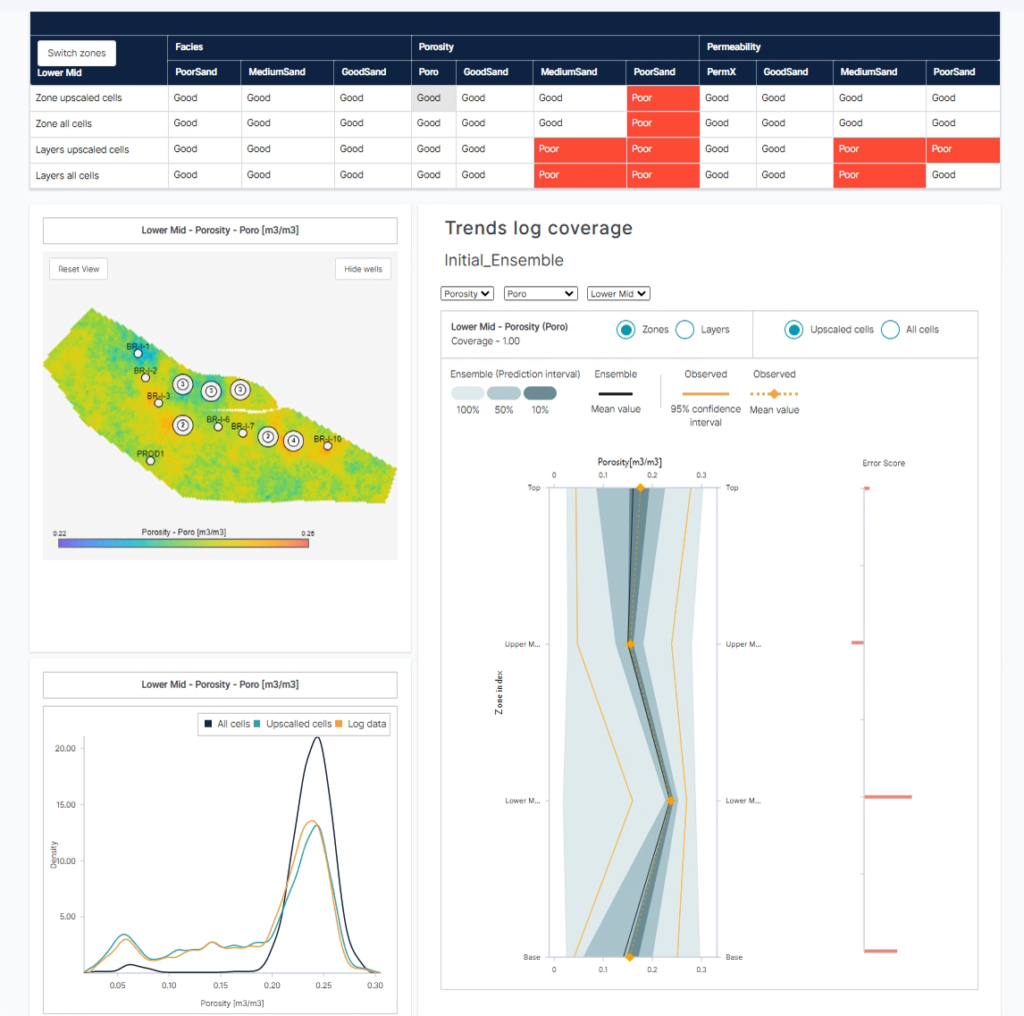 Volumetric reporting
Quality-check the volume responses of your ensemble using maps, histograms and tables reporting values for field, zones, segments or your reservoir. Also compare the volumes between ensembles.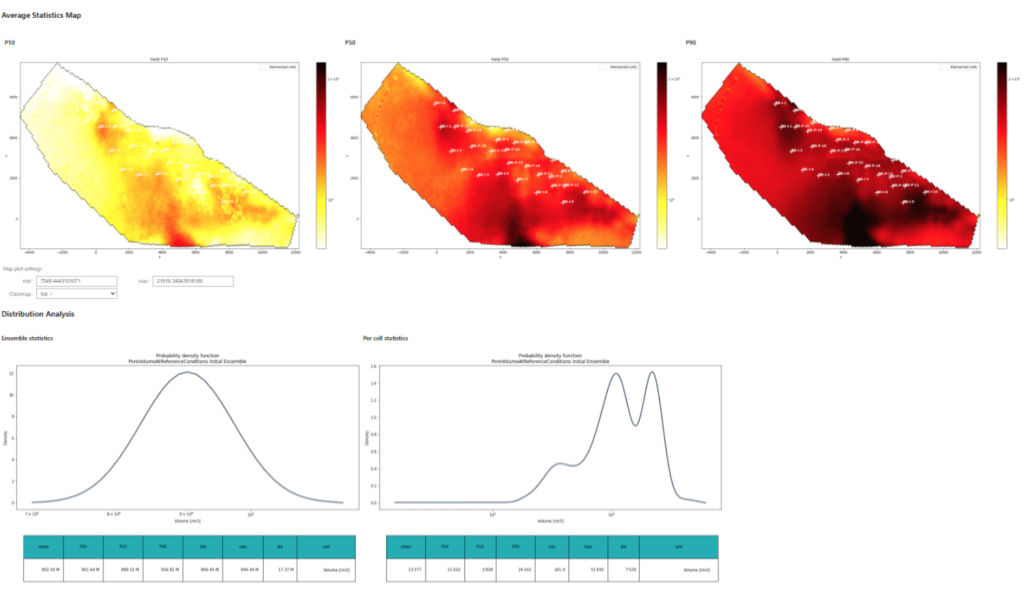 Visualize static and dynamic grid properties for ensembles
Ensemble analytics contains viewers for both 3D and map-based statistics to help understand the details of your ensemble. It is simple to quickly calculate a wide range of statistics without the need for complex workflows. The results can be viewed within IRMA and exported to other modelling tools or to generate reports.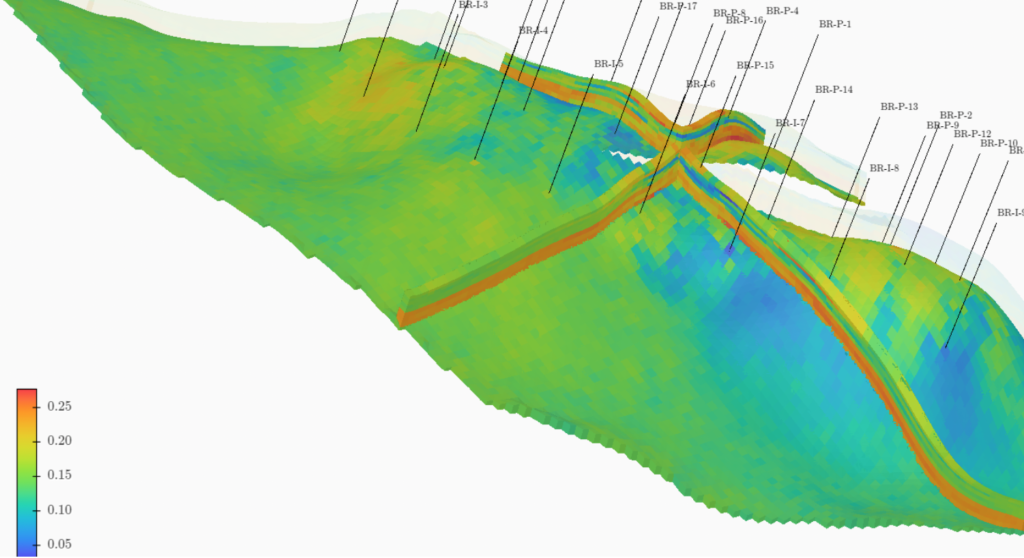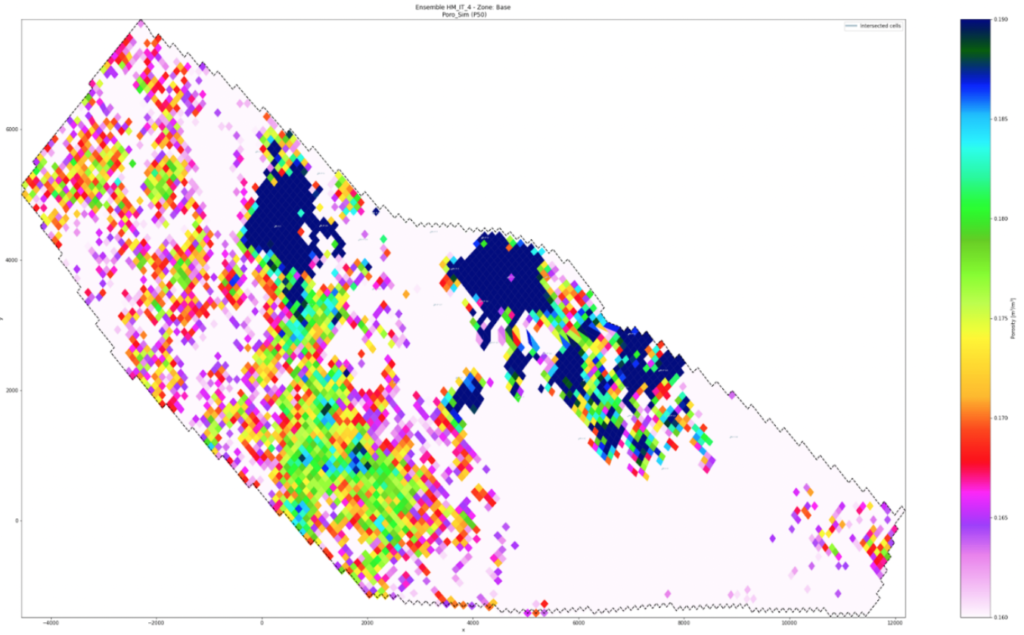 Ensemble comparison
Comparing ensembles can be useful to see where property or volume updates have occurred when performing history matching using ResX. It can also be used in forecasting studies, for example when comparing recovery forecasts based on different development strategies.
Ensemble analytics in IRMA contains applications to visualize the property updates ResX has made with custom reports comparing the difference between key statistics in 2 ensembles: either comparing prior and posterior ensembles from a history match study, or between different vintages for the same ensemble. IRMA also has applications for comparing volume updates and comparing production responses for different ensembles. These tools can all be used to communicate results to the subsurface team and to other stakeholders.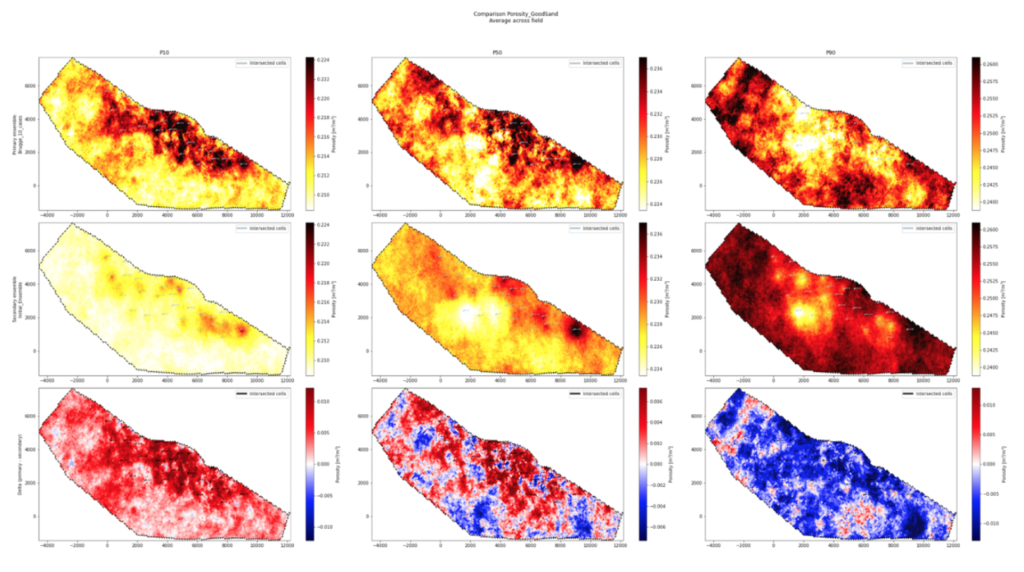 Well target analytics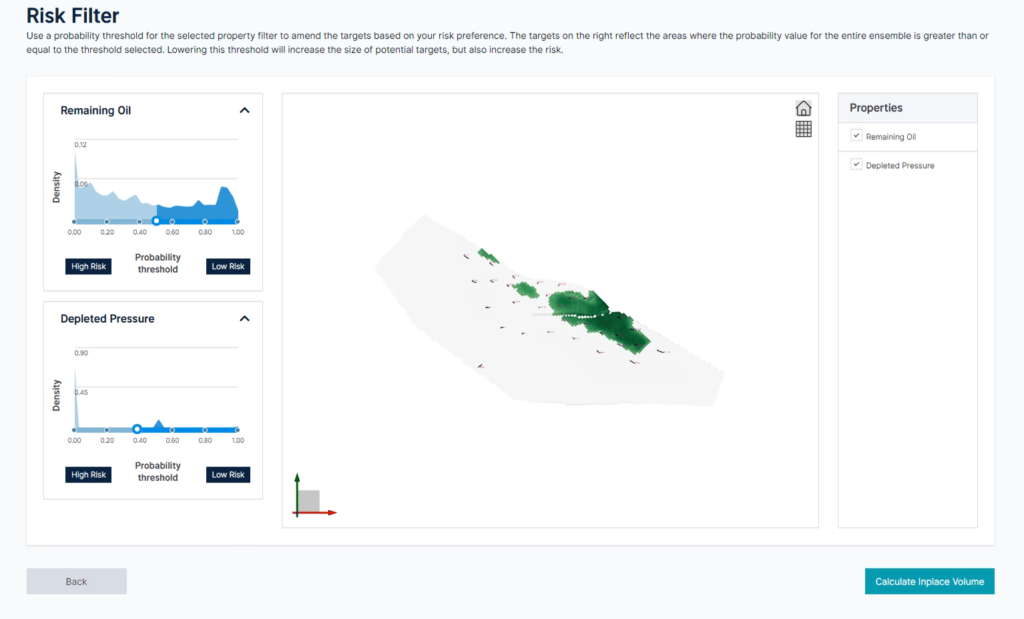 Experience planning with an ensemble
No more guessing about what is a good model to use for well target selection – plan with a full ensemble. Why take the risk of taking a base case approach? Build your ensemble with ResX, get your well target analytics with IRMA – fast.
An analytics tool for automatically identifying robust well targets based on an ensemble of models. Users define well target selection criteria based on reservoir properties and get feedback on the associated risk. Therefore, identified targets are ranked according to their added value potential and risk.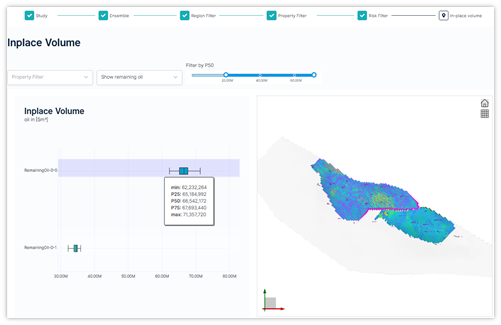 Understand risk & opportunity
Improve your decision making process. Now you can inform decision makers about potential targets for wells, as well as give a clear ranking based on your own preferences. Consequently enabling consistently good judgments on how to take action.
Drainage strategy optimization
Drainage strategy optimization is offered as Software as a Service (SaaS) only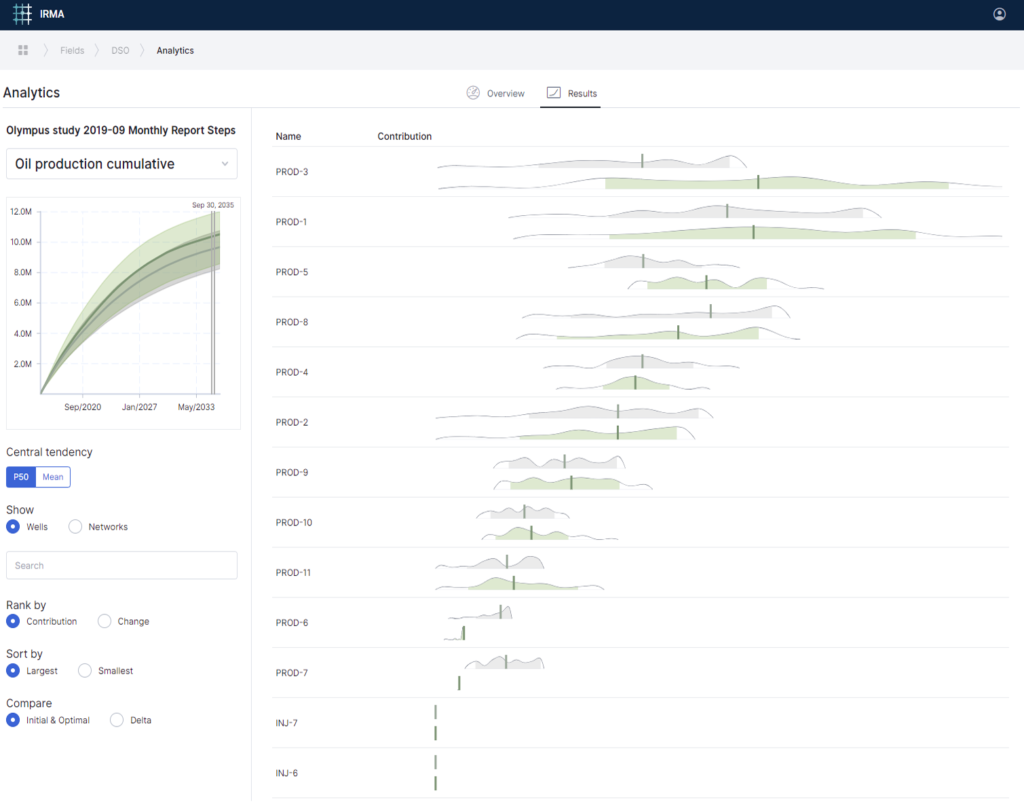 Optimize your development plan
Use fit for purpose algorithms to explore how to further improve recoverable volume, net present value, and/or CO2 emission while accounting for the uncertainty in the subsurface. Evaluate the full potential of different development options, with their associated risks and opportunities. Let algorithms quickly explore alternative options to gain new understanding of your reservoir.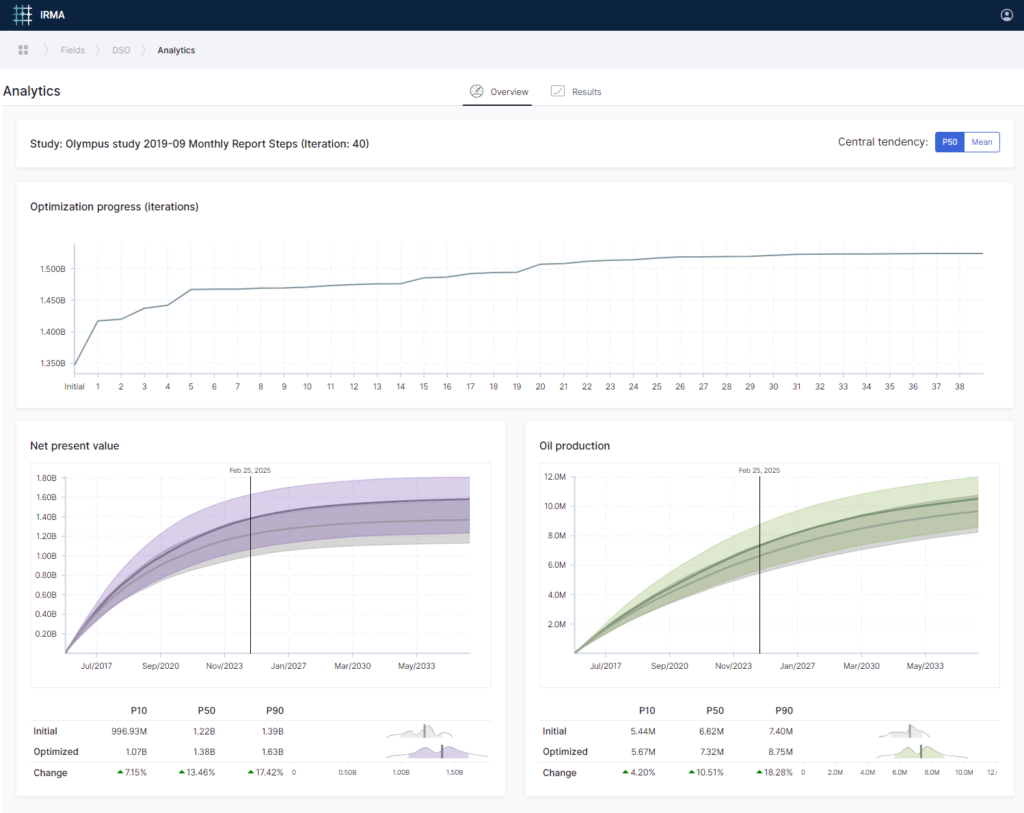 Flexible optimization
The algorithm behind Drainage Strategy Optimization is implemented with flexibility in mind, this to ensure generic application to your development challenges.
Expand on the native functionality to address your needs by combining Drainage Strategy Optimization with IRMA Lab.
Seamless integration with ResX
IRMA automatically ingests and manages ensemble data from ResX.

ResX and IRMA deliver speed, control and power to look at all available data as a whole. Immediately assessing how modelling choices and data interpretation affect the resulting ensembles of models and enabling teams to quickly iterate and continuously learn and improve.

ResX and IRMA deliver an uncertainty-centric approach based on an end-to-end integrated and automated workflow that quickly closes the loop between input data and ensemble, providing analytics for insights and decision support.

FAQs
Can I write my own applications connecting them to IRMA?

IRMA has a documented API that makes it possible to access and use the ensemble data.

Can IRMA read ensemble data from applications other than ResX

Yes, IRMA is designed to be able to work with ensembles other than those generated in ResX

What Cloud providers are supported for IRMA?

IRMA currently runs on Microsoft Azure