Resoptima offers standard training courses designed to get professionals rapidly up to speed in their use of our solutions. These courses are given on demand, with a minimum of 2 attendees and a maximum of 6.
Note the availability in the RPS Training portfolio of a 2-day course covering the fundamentals of ensemble-based modelling and simulation. It is delivered by Resoptima VP product Martha Stunell. More here.
Resoptima training courses are delivered by our subject matter experts (SME) using real datasets. Our requirements for prior training or prior experience ensure that each trainee gets the most out of the training course we deliver. All training courses can be delivered either as a classroom course (recommended) or virtually.
ResX
Introduction to ResX (4 days)
This course begins with a one-day Resoptima basics workshop to introduce the concepts that are key to understanding how ensemble modeling with ResX works. The hands-on course will then cover installation and updating the software as well as all the key workflows in ResX. This course is suitable for the users who are new to Resoptima technology or who want to refresh their knowledge. The training course takes users through the entire process of 
Creating & analysing an initial ensemble
Setup, running & analysing a history match study
Performing & analysing a forecast study
Knowledge of the use of Petrel for subsurface modeling, reservoir modeling and reservoir simulation is a requirement prior to attending this course.
Catalog reference 10
Advanced ResX (3 days)
This course covers the advanced features of the ResX package. The core topics covered in this course are the following, but the modular framework allows it to be tailored to client needs:
Hierarchical facies modeling with adaptive pluri-gaussian algorithm
Including concept probability from various sources
Running ensemble based forecasts with top-side constraints,
Structural uncertainty
Using DST data in a ResX study
This course requires that the ResX introductory course be completed first and the trainee should have experience using ResX in their own projects.
Catalog reference 20
ResX 4D seismic module (1 day)
This course provides the necessary elements for 4D seismic data to be included in an ensemble-based reservoir modeling and data conditioning workflow. 
The topics included are the following:
Importing/creating observed 4D surfaces and adding to the ResX objective function
Sim2Seis workflow options using Petrel workflow editor or external executable
Using the Ensemble analysis process with 4D objective functions
Setup and running a history match including 4D data matching
The course illustrates the principles involved in ResX and does not cover details on creating 4D observed data sets suitable for history matching.
This course requires that the ResX introductory and advanced courses be completed first and the trainee should have experience using ResX in their own projects.
Catalog reference 22
IRMA
The IRMA training programme is summarized here and is modularized to streamline delivery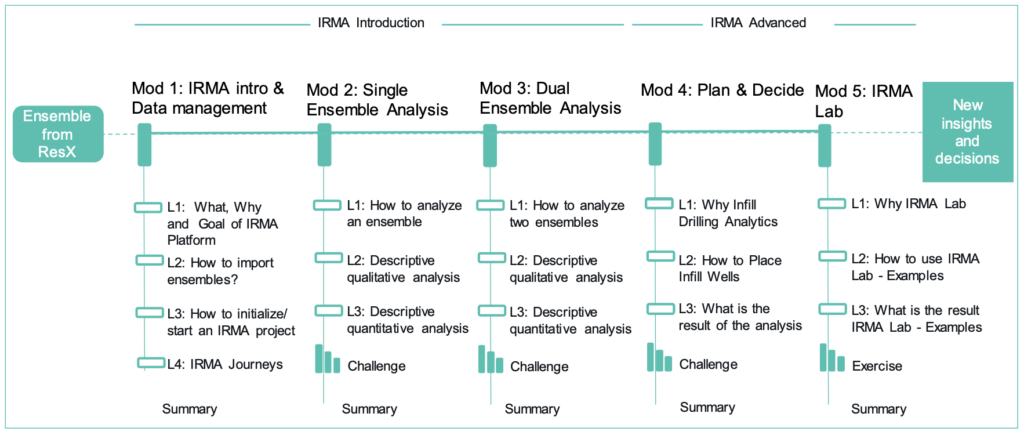 Introduction to IRMA (2 days)
This course is delivered as 3 modules which cover the basics of the loading of ensemble data into IRMA, analytic and quality control features to assess the data, and the use of comparative tools to evaluate differences between multiple ensembles. The intention of each module is to present the users with a set of learning objectives that they can then practice, using either their own data or a pre-prepared data set. Each module is a 1-2 hour lecture and demonstration session followed by the hands-on challenges.
Because of the modular arrangement it can be easily organised to be done in a classroom setting over 2 days or via remote learning sessions. The specific modules covered in the introduction are
Module 1: IRMA Intro and Data management
Module 2: Single Ensemble Analysis
Module 3: Dual Ensemble Analysis
This course requires a good knowledge and preferably some personal experience in producing and interpreting ensemble-based models in ResX or other platforms.
Catalog reference 50
Advanced IRMA (2 days)
This course focuses on the applications built on top of the IRMA platform. Infill drilling and drainage strategy optimization are covered. An overview of the API and how to build Python scripts is also part of this module. As with the introductory course this is arranged as modules which are suitable for classroom training or can be delivered as virtual learning sessions.
Module 4: Plan and Decide
Module 5: Drainage Strategy Optimization (coming soon)
Module 6: IRMA Lab
This course requires completion of the IRMA introductory course modules 1-3.
Catalog reference 60
Certificates
On completing each course the trainee is sent a digital certificate of completion with a digital ID. A link is provided to a PDF of the certificate for printing purposes